Roofing Services in Northern Virginia
Roof repair & replacement contractor in Virginia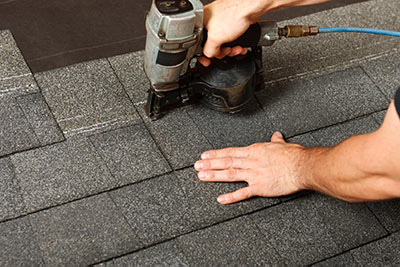 A leaky roof or damaged shingles are typically the most obvious signs of roof damage. A professional roofer can help identify the areas of your roof that need attention and determine the best plan of action.
Your roof is an extremely important part of your home. Make sure your roof is properly cared for and maintained. The professional team at MC Fence And Deck is here to help. We offer comprehensive roofing services including roof repair, roof maintenance, and roof replacement.
Waiting too long on roof repair or roof replacement is rarely a good idea. By waiting you open up your roof, or even home, to further damage as the problem worsens. This can especially be true of roof replacement as the aging, or just generally failing, roof may not have any explicit problem now, but if left alone can start to develop leaks or other problems causing costly damage.
Whether you need to repair your roof or just want to upgrade the look of your home MC Fence And Deck is here to help. We offer roof repair and roof replacement throughout Northern Virginia and offer free estimates for all our roofing services!
Roofing Material is just part of your roof that should be inspected
When we evaluate the condition of your roof, our primary concern will be the roofing shingles or other finished roofing material. However, before deciding whether roof repair or new roof installation is right for you, there are some other areas of the roof that should also be inspected for the best results.
We'll also make sure to inspect:
Gutters and downspouts: Bad gutters and downspouts that fail to redirect water away from the home can lead to major and costly problems for your home as excess rainwater flood basements or damages your home's exterior. Making sure your gutters are well-maintained and clog free is an easy way keep your home safe.
Roof flashing: We will always check the flashing around chimneys, vent stacks and skylights, as well as step and valley flashing.
Skylights: Leaks between the skylight glass and aluminum glazing bars can also be a major issue. That's why we'll make sure to inspect this area and repair it with special sealant if necessary.
Roof ventilation: Soffit vents and ridge vents rarely require maintenance or repair, but gable vents can give insects and rodents access to your attic if they are not properly screened. These vents may need to be inspected from inside your attic as well as from the house exterior.
Upgrade your home's curb appeal with a new roof
A roof serves an obvious and very important functional purpose, but it also plays a huge role in your home's appearance and first impression. Sometimes it might be worth replacing your old roof not because of functional issues but in order to upgrade your home's appearance. As experienced, professional Virginia roofing contractors, we can help you decide if roof replacement or installation makes sense for your needs and budget.
There are even more materials available for your roof replacement now than ever before. There are composite shingles made of recycled rubber that look like old-fashioned roofing slates and new and improved modern asphalt-fiberglass shingles too just name a few of the options available.
Decide on your roofing needs
Over time, all roofs wear out and will eventually need to be replaced. If you wait too long to repair or replace the roof, you can end up with leaks and expensive damage. On the other hand, replacing the roof too soon is a waste of money. It's important to be aware of the common roofing problems and which ones should be dealt with right away.
The professionals at MC Fence And Deck can assess the condition of your roof and determine any early signs of roof failure. Contact us today for a free estimate in VA, including Northern Virginia and surrounding areas.
Looking for a price? Get a no cost, no obligation free estimate.