Expert Fence Installation in Leesburg, Sterling & Throughout Virginia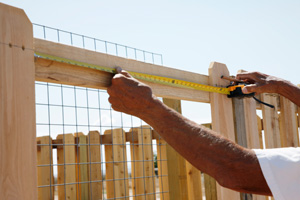 Quality fence materials & expert installation can make all the difference.
Installing a quality fence in your yard is a great way to enhance the look of your home and increase your property value at the same time. A new fence can also keep out unwanted pests and intruders and provide you with greater privacy.
Installing a fence can be tricky, and the labor involved is almost always more than people expect it to be. A professional installation is the best way to be sure that your fence is installed properly, looks great, and will hold up over the years. Let the experts at MC Fence And Deck help you with your new fence installation today.
We work in Leesburg, Arlington, Manassas, Fairfax, Falls Church and surrounding Virginia areas. Call us at 1-844-880-5140 or click below to get a free estimate for your project!
Customer Reviews
"I absolutely love the fence!! Thank you sooo much! I have no idea how they..."

"Maria Medina recommends your business "MC FENCE did an amazing..."

By Patrick O.
Ashburn, VA

"Doing business with this company is unforgettable experience. Attending in..."

"I've already passed your details on to a friend looking for a fence..."

By Anonymous
Sterling, VA

"Work was neat and finished on time. Also provided additional information..."

"My fence is beautiful and just as I wanted. They were friendly and helpful..."

"They worked with us and installed the fence on time. Great work and great..."

"MC Fence was the greatest! They arrived first thing in the morning and..."

"I had asked about screening in either our front porch or back patio, but..."

"MC Fence was a recommendation and I'm glad I had them do the work. Very..."

"Review by a Homeowner in Herndon, VA Project: Install a Wood..."

"Hard working - Felt they were unmanned all day to get the job done. Two..."

By Chaitanya D.
Oakton, VA

"Review by Chaitanya D. in Oakton, VA Project: Install a Wood..."

By Nancy I.
Centreville, VA

"Sales person was really on the ball compared to other companies who came..."

"Courteous, knowledgeable, informative, professional."
Advantages of professional fence installation
No need to rent expensive equipment
Most people don't own the heavy equipment needed to properly dig post holes, which leaves you having to rent expensive equipment to get the job done or dig all the holes by hand. Professional installation can you save you time and the hassle. We have the equipment, experience, and expertise to install a high-quality fence for your property in a timely manner. We pay attention to the details to ensure a job done right.
Quality materials & custom design
Pre-built panels always look great in the store, and in theory they are easy to install. Unfortunately, they can actually be quite complicated in reality. The posts have to be laid out in exactly the right spot for the panels to be mounted, because if the distance is too short or too long, the panels won't line up and you'll wind up having to dig more holes. Nobody wants to dig more holes after posts are being set and panels are going up.
Another problem with pre-built panels is that they will not follow the lay of the land. They must be mounted level, and if your yard has small hills and rises, you will be left with large gaps at the bottom of the fence. These gaps aren't attractive and can allow animal and human intruders into your yard or let your pets out of it.
We will build a wood fence picket by picket, so the fence follows the yard in a graceful and appealing manner. Having our professionals custom design and build your new fence is the best way to save time and hassle while making sure that you are totally satisfied with the finished product.
Get a fence that meets all safety & building codes
Finally, many cities have requirements regarding the installation and construction of a fence. The post holes must be a certain depth, and there may be distance requirements from property lines or public areas. By hiring experienced professionals, you can let someone else deal with those hassles. All you will have to do is sit back and enjoy the new privacy and style your fence will bring to your yard.
Contact us for a free estimate for fence design & installation
Let the expert fencing contractors at MC Fence And Deck install your new residential or commercial fence! Call us or fill out our online contact form for an on-site consultation and free quote today. We work in Sterling, Ashburn, Reston, Centreville, Mc Lean, Chantilly, Annandale and surrounding areas.