Metal Fence & Iron Fence Installation in VA, WV & DC
Quality solutions to enhance your home's security & curb appeal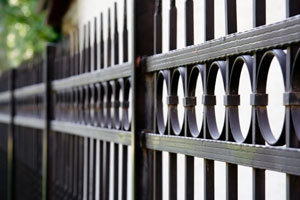 Metal fences provide an excellent balance between function and aesthetic value.
If you're looking for a fence that provides security, and an attractive appearance, without the maintenance that's required with a traditional wood fence, metal fencing is a strong, low-maintenance option. We can install a metal fence in a design and material that compliments your landscape.
Call us at 1-844-385-9264 to request your free design consultation and estimate. We offer a full range of residential fence design, installation, and maintenance services in Ashburn, Millwood, Sterling and surrounding Virginia areas.
Photo Gallery
Benefits of a metal fence

Customer Reviews

By Terri K.
Potomac Falls, VA

"The overall experience from start to finish was very professional. The quote was reasonable for the work we needed. The..."

By Robert H.
Winchester, VA

"You were the third estimate I received. You came in the middle but your representative and his presentation left no leaf..."
Metal fences can be used for a variety of applications and offer great long lasting quality, making them a smart investment for your home. Metal fences are great for keeping pets or children safe, surrounding your garden, and adding curb appeal.
Metal fences provide a durability and quality that is difficult to match. Our fences are built to stand the test of time and will provide you with a sturdy finished product for years to come.
Perhaps the biggest benefit of a metal fence is aesthetics. These fences make a fantastic complement to a wide range of home styles and colors, and they can be paired with a gate to make a complete perimeter around the property. No matter what use you have in mind for your fence, we can design a solution that matches your needs and budget.
Get started with a free quote for a custom metal fence
When you choose MC Fence And Deck to install your metal fence, you can count on quality products and excellent customer service. Contact us today to request a free estimate for all your home fence needs. We proudly all of Northern Virginia, including Leesburg, Aldie, Purcellville, Chantilly, Centreville, Lincoln, Hamilton and nearby areas.